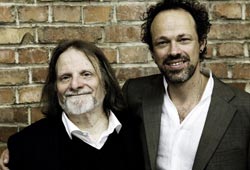 In 2017 the Richie Beirach/Gregor Huebner Duo celebrates their 20 year concert anniversary. In these 20 years they toured in Japan, Europe and the US and can be heard on many recordings starting with the Snow Leopard on Evidence in 1997.
Between 1999 and 2003 they appeared on the ACT label with three critically acclaimed productions together with George Mraz on bass. These CD's where called Round About Bartok, Round About Frederico Mompou, which was nominated for a Grammy, and Round About Monteverdi.
Two recordings of the duo, New York Rhapsody and Duality, celebrate their work in between contemporary classical music and Jazz.
Within all genres of music, there exists a delicate balance between that which is premeditated and that which is spontaneous. Even the most intricately composed piece requires the soul and energy of the artist to breathe life into every performance, while the simplest creative musical impulse can give rise to an entire symphony.
Within this mysterious grey area, the NYC-based Duo has carved out an unmistakably distinct path. Taking a traditional model and redefining what it can be, they approach the duo as both composers and performers, as both adherents to the written music on the page and impulsive improvisers willing to throw it all away in the moment and let intuition take the lead.
Richie Beirach one of the most accomplished Jazz pianists of our time worked with Dave Liebman, Chet Baker, Stan Getz, Wayne Shorter and many more. Gregor Huebner is a member of Sirius Quartet and is the founder of El Violin Latino. Both of them are established composers and performers and in their Duo they where described as both, one of the best Modern Jazz and contemporary chamber music duo without stylistic borders.
Richie Beirach European Quartet
In this group the duo collaborates with two great musicians Veit Huebner on bass and Michael Kersting on drums.
Over the years they played concerts as a quartet in Europe and Asia recorded a vinyl record which was released in September 2016.