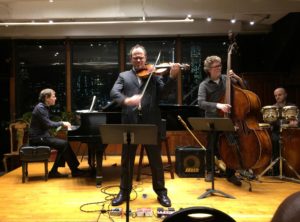 EL VIOLIN LATINO are featured performers at the Latin-Jazz evening at KITANO HOTEL's JAZZ CLUB.
Enjoy an evening of Latin Jazz filled with tango, samba, bossa-nova, and salsa rhythms on Thursday, March 9, 2017 – Two sets: 8pm & 10pm.
GREGOR HUEBNER, Award-winning German violinist/composer/ bandleader;
KLAUS MULLER, German pianist
ITAIGUARA BRANDAO, Brazilian bassist
JEROME GOLDSCHMIDT, Luxembourg percussionist
Very special guest in the first set — my son Ysai joins me on the violin.
KITANO HOTEL's JAZZ CLUB
66 Park Avenue @ 38th Street – New York, NY 10016
Open to the public   –  Cover $17.00 + $20.00 min.
Reservations by phone only: (212) 885-7119