Join us for a unique, curated show on Friday, April 27, 2018 beginning at 7pm at Spectrum, 70 Flushing Ave, Brooklyn, NY.
7 PM – Brandon Ross/Stomu Takeshi Duo – For Living Lovers
8:30 PM – Shoko Nagai/Gregor Huebner Duo
For Living Lovers is the acoustic duo of guitarist Brandon Ross and acoustic bass guitarist Stomu Takeishi. Founded in 2002, For Living Lovers developed out of a shared musical sensibility and sonic influence of instruments designed by legendary master luthier ‪Steve Klein. The duo has recorded and toured the film music of Toru Takemitsu, played the prestigious Saito-Kinen Festival in Nagano, Japan, and released their debut Recording, "Revealing Essence" on Sunnyside Records (2014) to superlative reviews.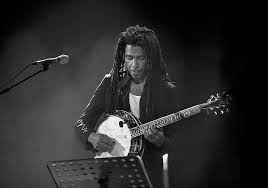 Brandon Ross is a New York City-based guitarist/composer/singer/songwriter. As a performing and recording artist, Ross has collaborated with many innovative voices in modern music, such as Wadada Leo Smith, Cassandra Wilson, Henry Threadgill, Me'Shell N'degeocello, and many others. Ross also leads For Living Lovers, his Chamber Music for Improvisers acoustic duo with acoustic bass guitarist, Stomu Takeishi, and is a co-leader of the power trio Harriet Tubman (with bassist Melvin Gibbs and drummer JT Lewis). Ross is a 2014 Chamber Music America New Jazz Works grantee, an ASCAP Foundation commissioned composer, Rockefeller Foundation MAP Grant recipient, NYSCA Composition grant recipient, and ASCAP writer and publisher member.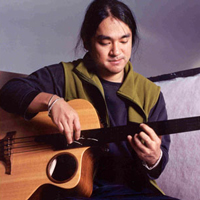 Stomu Takeshi is a Japanese jazz bass player. He generally plays fretless five-string electric bass guitar, as well as a Klein five-string acoustic bass guitar. He often uses looping or other electronic techniques to enhance to sound of his instrument. Takeishi began as a koto player. He came to the US in 1983 to attend the Berkeley College of Music in Boston, Massachusetts. After completing his degree in 1986, he moved to Manhattan to continue his studies at the New School. He has lived in New York ever since.
He has performed and/or recorded with Bon Cherry, Henry Threadgill, Rutsch Morris, Dave Liebman, Randy Brecker, Paul Motion Myra Melford and many others. In Downbeats 57th Critics Poll in 2009, Stomu was the poll winner for the category of Electric Bass, Rising Star.
Shoko Nagai / Gregor Huebner Duo
Within all genres of music, there exists a delicate balance between that which is premeditated and that which is spontaneous. Even the most intricately composed piece requires the soul and energy of the artist to breathe life into every performance, while the simplest creative musical impulse can give rise to an entire symphony.
Within this mysterious grey area, the NYC-based Duo has carved out an unmistakably distinct path. Taking a traditional model and redefining what it can be, they approach the duo as both composers and performers, as both adherents to the written music on the page and impulsive improvisers willing to throw it all away in the moment and let intuition take the lead.
Shoko Nagai (Composer/ Pianist/ Accordionist/ Improviser) Born inNagoya, Japan, Shoko Nagai has been evolving as a professional musician for 20 years. After graduating from Berklee College of Music in 1999 she moved to New York City and quickly established herself in the downtown jazz scene performing with such renowned artists as John Zorn, Rasheid Ali, Miho Hatori (Cibo Matto), Ikue Mori, Satoshi Takeishi, Butch Morris, Elliot Sharp to name a few. The Shoko Nagai Quintet which features some of New York's best musicians has performed extensively at the BlueNote, The Stone, Joe's Pub, Vision Festival, Roulette and The Kitchen as well as at other top New York clubs. Shoko Nagai is a versatile musical artist who improvises and performs with world-renowned musicians on piano and accordion and composes original scores for films and live performances.
Gregor Huebner is an award-winning composer and violinist, celebrated by audiences and critics alike for his visionary work across genres. His music has been described by The New York City Jazz Record as "challenging and vivid… seamlessly incorporat[ing] chamber elements with avant garde jazz," while All About Jazz describes him as "a virtuoso with broad experience in large and small classical ensembles." Huebner's recent El Violin Latino, an album exploring the role of the violin in traditional Latin American music, was praised by The Wall Street Journal.
His duo playing with Richie Beirach for over 20 years is well documented on numerous CD's. Gregor is also a member of Sirius Quartet.