I am gearing up for a great week at the International Theaterhaus Jazztage in Stuttgart where a new ensemble, the European New York Jazz Collective (EUNYJC), is coming together for their premiere performance. The group features Gregor Huebner (violin, piano) Gregoire Maret (harmonica) Mino Cinelu (percussion) Lage Lund (guitar) Hans Glawischnig (bass) Theo Bleckmann (vocals) Ferenc Nemeth (drums). The Annual Theaterhaus Jazztage takes place in Stuttgart from March 28  – April 2, 2018. View Entire Program >>
We have 2 full days of rehearsals and a concert on Friday March 30, 2018 in Hall 1 at the Theaterhaus in Stuttgart. It is a great honor to share the evening with Lee Konitz Quartet – Lee Konitz (saxophone) Florian Weber (piano) Jeremy Stratton (bass) George Schuller (drums).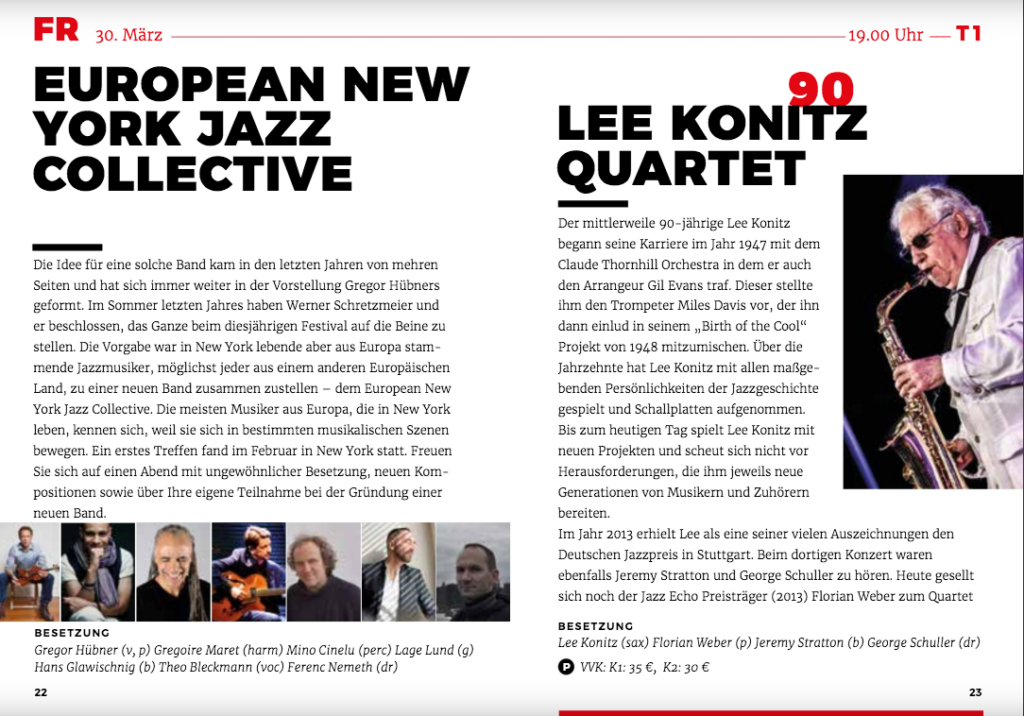 The idea for the European New York Jazz Collective came to me as a figment of my imagination one day. Fortunately, in the summer of 2017, Werner Schretzmeier and I decided to get the whole thing happening for this year's Jazz Festival.
In order to make the dream a reality, we had to bring together musicians from both sides of the Atlantic. The concept of the group was to bring together New York-based, European-origin jazz musician from as many different European countries as possible.
As a European in New York, you usually know other top-notch musicians, because you are moving in certain musical scenes, and of course you are musicians with whom you would like to play or have already played. I have often played and recorded with Hans Glawischnig, who is also a member of my NY-NRG Quartet. I've known Gregoire and Theo for a very long time, since we came to New York at about the same time. I played with Theo in Uri Caine's Ensemble at the Music Festival Bejing. Mino, Ferenc and Lage are musicians I have always wanted to play with and I really appreciate their musicianship.
Everyone in the group has performed with Jazz greats such as Miles Davis, Pat Metheny, Chick Corea, Lionel Loueke, Richie Beirach, Joe Zawinul, Uri Caine, Ron Carter, Meredith Monk and many others.
It was spectacular when we had our first meeting in February 2018 to discuss the program for this project. We are truly grateful to Theaterhaus Jazztage for providing an amazing venue for us to practice and perform. We look forward to a wonderful evening with a unique group of musicians, performing new compositions as our new group, the European New York Jazz Collective.