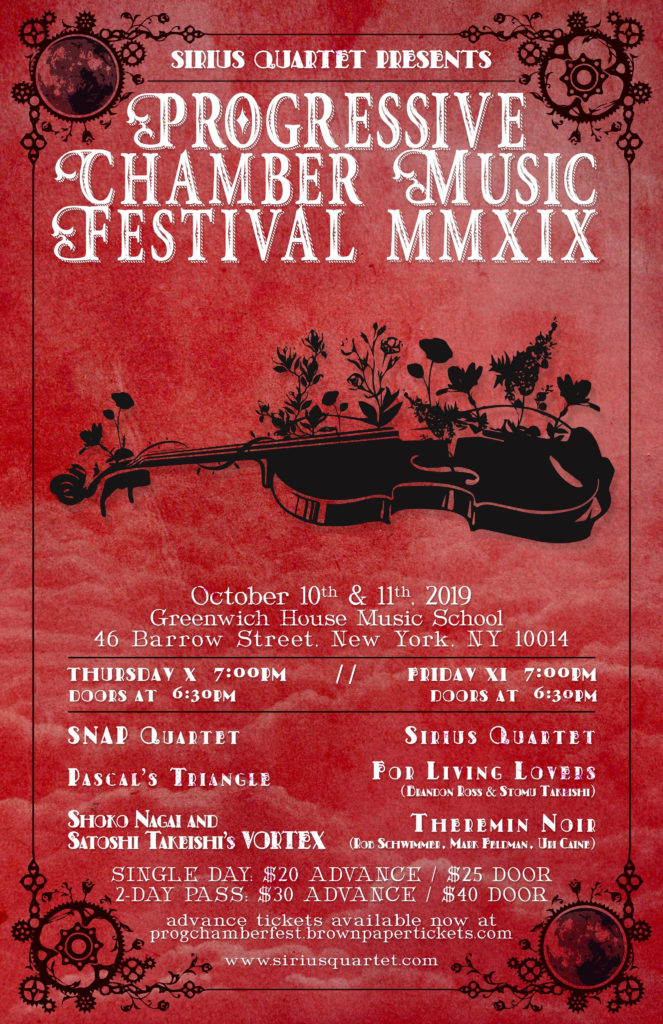 Sirius Quartet brings its Progressive Chamber Music Festival back to NYC on October 10-11, 2019. The fourth annual festival is comprised of two 7PM concerts over two days at the Greenwich House Music School in lower Manhattan.
[themify_button link="https://www.brownpapertickets.com/event/4365835″ target="_blank" ]TICKETS[/themify_button]
Called an ensemble that works comfortably at the intersection of post-minimalist classical composition and post-bop jazz by the Detroit Free Press, Sirius Quartet is known for visceral compositions and arrangements that provide ample space for improvisation. With the Progressive Chamber Music Festival, the quartet invites similarly free-spirited and tough-to-pin down artists to lead audiences down a path of exploration.
On October 10, Lisa Hoppe's Third Reality (Charlotte Greve, sax, Tal Yahalom, guitar, Lisa Hoppe, bass, composition) kicks things off with its sometimes dizzying original compositions. Then composer/pianist Pascal Le Boeuf's modern jazz piano trio Pascals Triangle will take the audience on a deep dive. Le Boeuf describes the trios philosophy as that of a diver charged with the task of swimming deep within the mind, beneath the surface of reality, to retrieve something beautiful, undiscovered or interesting to share with the real world. Shoko Nagai and Satoshi Takeishi, known for intense improvisational music that has been described as almost visible to the listener, close out the evening.
On October 11, Sirius Quartet will open with music from their new record, New World (out August 23 on ZOHO Records). For Living Lovers, featuring Brandon Ross and Stomu Takeishi, and all-star trio Theremin Noir round out the night. The album Theremin Noir was released 20 years ago and its re-release is timed to coincide with the 100th anniversary of the invention of the theremin in 1920. This is darkly evocative modern chamber music
with a healthy dose of improvisation by three masters Rob Schwimmer (theremin), Mark Feldman (violin), Uri Caine (piano) . The program includes fascinating interpretations of thematic highlights culled from the oeuvre of film composer Bernard Herrmann, who created an astonishing musical-psychological subtext for director Alfred Hitchcocks greatest films as
well as originals and improvisations.
PROGRESSIVE CHAMBER MUSIC FESTIVAL
NYC has long been an incubator for cross-genre pollination and experimentation in all corners of the music community, not least of all in the classical and jazz scenes. From the minimalism of Young, Reich and Glass in the 60s and 70s to the experimental genius of Zorn and the Knitting Factory scene of the 80s and 90s, there has been an unparalleled openness to break down walls and assumptions of what so-called art music can be and how it should be presented.
As these lines continue to blur and fade into one another, there continues a steady stream of artists and ensembles continuing to carry the torch and push the boundaries. The Progressive Chamber Music Festival, curated by the Sirius Quartet, features artists with unique identities and a shared desire to define chamber music on their own terms. These are chamber music ensembles of the 21st century not defined by genre, nor limited by the distinction between concert and popular music, and blurring the lines between performer, composer, and improviser. This is progressive chamber music.
FESTIVAL DETAILS
October 10-11, 2019
Greenwich House Music School
46 Barrow Street, NYC
TICKETS: single day: $20adv/$25door, 2-day:$30adv/$40door
[themify_button link="https://www.brownpapertickets.com/event/4365835″ target="_blank" ]TICKETS[/themify_button]
Thursday, Oct 10 @ 7PM
Third Reality (Lisa Hoppe, Tal Yahalom, Charlotte Greve)
Pascals Triangle (Pascal Le Boeuf, Martin Nevin, Peter Kronreif )
Shoko Nagai & Satoshi Takeishis VORTEX
Friday, Oct 11 @ 7PM
Sirius Quartet
For Living Lovers (Brandon Ross & Stomu Takeishi)
Theremin Noir (Rob Schwimmer, Mark Feldman, Uri Caine)