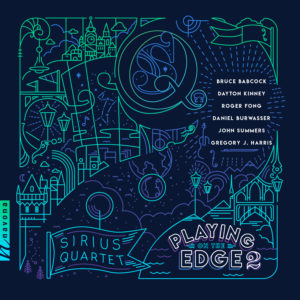 We are excited to announce our latest collaboration with PARMA Records and a group of fantastic composers is out!!
Playing on the Edge 2 is our second recording in a series of brand new string quartet music by a stylistically diverse pool of up and coming composers. Thank you to Bruce Babcock, Dayton Kinney, Roger Fong, Daniel Burwasser, John Summers, and Gregory J. Harris for your excellent compositions, it was a pleasure to work with you all and record your music!
"PLAYING ON THE EDGE 2 follows up Navona Records' first Gramophone-lauded album in this series for string quartet. Like the first installment, the award-winning Sirius Quartet plays the entire catalogue to perfection.
 Bruce Babcock opens the album with Watcher of the Sky, a piece commissioned to celebrate the sesquicentennial of the birth of American astronomer George Ellery Hale. Four movements chronicle the astronomer's achievements throughout the course of his career: the listener follows the rise from humble beginnings to great discoveries, always enveloped in a sense of marvel at the infinity of outer space. The Canary Who Sang by Dayton Kinney is a politically-inspired piece drawing parallels between the historical canaries in coal mines and today's whistleblowers: a musical testament on how one voice can potentially disrupt a larger society.
 Happiness, anger, sorrow and joy are the underlying emotions of Roger Fong's Variations on Emotions. Derived from a Chinese saying that it is these emotions that make up life, Fong examines the nature of these heterogeneous sentiments with great accuracy. Daniel Burwasser's Puck's Game is a cinematically illustrative characterization of Shakespeare's mischievous sprite Puck from A Midsummer Night's Dream. Rhythmic and exciting, the work is somewhat reminiscent of Shostakovich, but more light-hearted and humorous.
 The first movement of String Quartet by John Summers is a meditation on sound, with thick harmonic layers and long, luscious melodic lines. The eclectic Landscapes by Gregory J. Harris round off the album. Careful to give every note, every idea ample space, the three-movement work exploits the tension between grandeur and intimacy – and the string quartet setup is the perfect conjunction of both.
 PLAYING ON THE EDGE 2 is a solid follow-up to the first installment; and since it skillfully continues the thematic arc of the first album, one might well be able to expect a third."