Richie Beirach, Gregor Huebner & Veit Huebner – Testaments: Richie Beirachs 75. Birthday Celebration
Album review by Charles Rees for London Jazz News
American pianist/composer Richie Beirach was 75 in May this year. He is best known for a partnership with saxophonist Dave Liebman which has lasted over 50 years, for having been a founding member of Quest in the early 1980s, and for many other long-standing musical brotherhoods. Long-term associations have been a significant aspect of his musical identity and personality.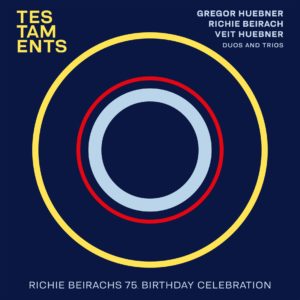 Testaments encapsulates this fact very well: the album pays tribute to his long-time friend and colleague, the late George Mraz, while celebrating another important collaboration involving the German brothers violinist Gregor Huebner and bassist Veit Huebner. Having met Beirach when they were his students in New York roughly 25 years ago, the Huebners have since gone on to tour and record with him many times. Testaments is a triple album, so Beirach is able to present Veit and Gregor with himself in various settings ranging from duos to the full trio.
Beirach's history with the violin predates Huebner: He wrote one of his more famous compositions, "Elm", in memory of the Polish violinist Zbigniew Seifert. He clearly has a special relationship with and instinctive feeling when writing for the instrument, which always sounds right in the context. This is also in no small part thanks to the adaptability of Gregor Huebner himself, who traverses standards, original compositions, free improvisations, and short classical works with great flair and apparent ease.
Veit Huebner is equally excellent, taking on a far more exposed role than many bassists would choose to seek out. His intonation and note choices are beautiful and worthy of the many fine bassists Beirach has collaborated with over the years. Not to mention that, even in the absence of drums, he is really swinging, no doubt spurred on in that direction by Beirach himself.
Talking of swing, Bill Milkowski described Richie Beirach in a recent interview as 'eternally swinging' ..a mantra which certainly holds here. And while many of Beirach's contemporaries are sadly passing out of their primes, he still maintains a freshness which is quite remarkable: listen out for the opening statement in his solo "Summer Night" ..he's swinging so hard it's infectious!
The violin-piano duo interpretation of John Coltrane's "Transition" left a similar impression as "Summer Night" did. And another standout track is Beirach's composition "Zal", originally recorded on flugelhorn by Terumasa Hino, but surprisingly suited to the timbres of the violin, perhaps more so than the flugelhorn.
This album may contain a total of over three hours of music, but the level of interest, focus and quality never lapses. Testaments is an engaging glimpse into a lesser-known side of Beirach, enabling him space to explore his classical roots in addition to the hard-edged, swinging post-Coltrane sounds he is synonymous with. But above all, it is a testament to the musical partnerships he has built his career around. What better way is there to celebrate a landmark birthday…
Testaments at O-Tone Music (full details and track listing). (O-Tone Music OT-053-2)
Read the review on London Jazz News