Release Date: January 25, 2019 in Europe and Asia on the label GLM. Order the album in Europe and Asia.
Release Date: February 8, 2019 in the US, South America, and Canada by Zoho. Order the album in the US, South America and Canada.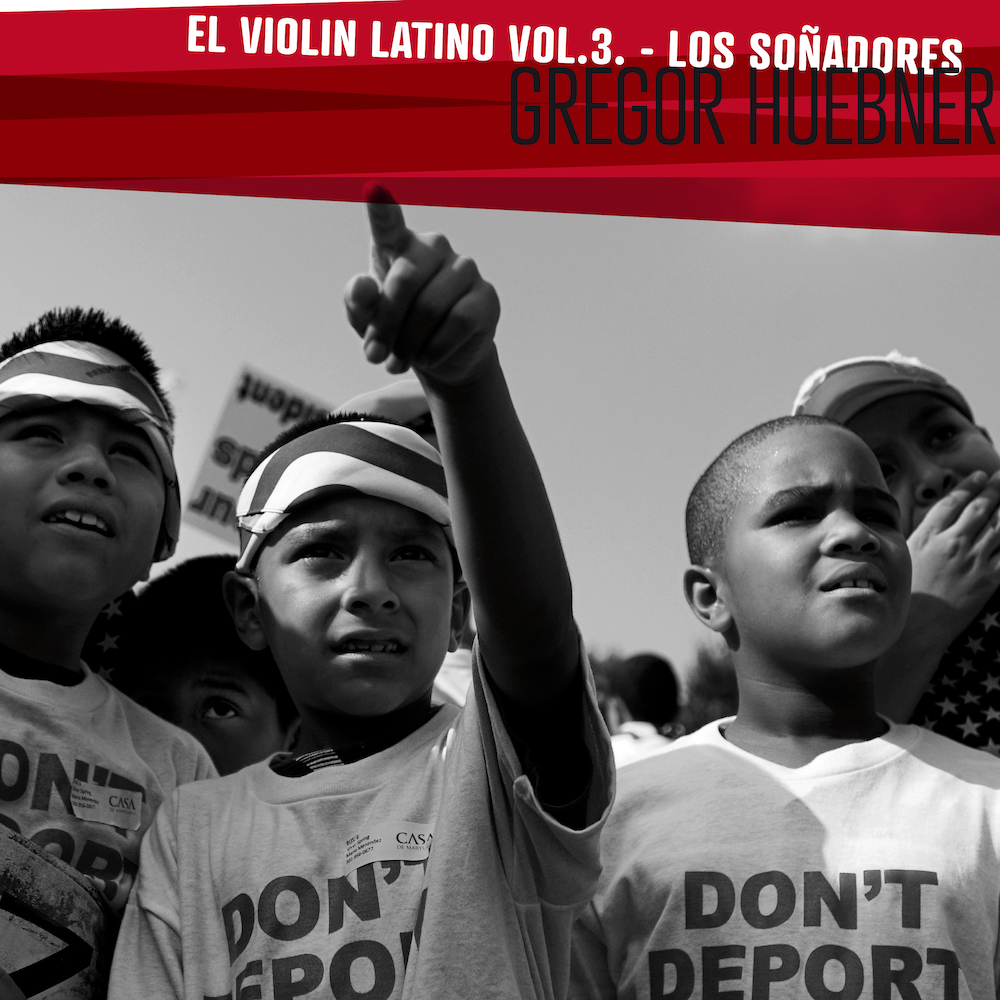 Als Geiger ist man – Stephane Grappelli hin, Didier Lockwood her – im Jazz immer ein Exot. Was den Vorteil hat, dass man auch exotische Dinge machen und dafür weiter über den Jazz-Tellerrand hinausblicken kann als andere Instrumentalisten. Gregor Huebner ist dafür das perfekte Beispiel. Aus einer Geiger-Dynastie stammend, ist der 51-jährige Stuttgarter natürlich klassisch ausgebildet, und das immerhin in Stuttgart beim berühmten Gerhard Voss vom Melos Quartett und in Wien. Früh interessierte er sich aber auch schon für freieres Musizieren, und so studierte er anschließend Jazz an der Manhattan School of Music. Seitdem, also inzwischen seit mehr als 20 Jahren, hat Huebner seinen Hauptwohnsitz in New York, auch wenn ihn Konzerte, Kooperationen und Lehraufträge – seit einiger Zeit ist er Professor an der Münchner Musikhochschule – immer wieder in die Heimat ziehen.
In den USA entstanden aber nicht nur die meisten seiner vielbeachteten Jazzprojekte (vom Trio mit Richie Beirach bis zur Zusammenarbeit mit Uri Caine oder Daniel Schnyder) und das Sirius Quartet, sein weltweit gefeiertes, für eine genreverbindende moderne Kammermusik gefeiertes Streichensemble. Dort bot sich auch das Terrain für Studien zur lateinamerikanischen Musik, die Hübner ebenfalls schon sehr früh fasziniert hat – noch als Schüler in Stuttgart hatte er unter anderem mit seinem Bruder Veit die Gruppe "Tango Five" gründet, die als Spaßband Berta Epple bis heute besteht. Die intensive Beschäftigung mit Tango, Rumba, Samba und Co und die Begegnungen mit dessen herausragenden Stilisten kulminierte 2010 in dem von der Kritik wie vom Publikum begeistert aufgenommenen Album "El Violin Latino". Als erster erforschte Huebner darauf die Rolle der Violine in der traditionellen Lateinamerikanischen Musik und stellte Standard-Arrangements eigene Kompositionen gegenüber. Noch einen Schritt weiter ging 2015 die Fortsetzung des Projekts: mit einer brasilianischen, einer argentinischen und einer kubanischen Band ließ Hübner die wichtigsten Stränge der Latin Music kontrastreich und in neuen Konstellationen aufleben.
Endlich folgt nun nach längerer intensiver Vorbereitung der dritte Streich: "El Violin Latino Vol. 3: Los Soñadores" konzentriert sich, wie schon der Titel verrät, ganz auf Kuba und seinen musikalischen Kosmos des Son. Aber natürlich auf ungewohnte, aus verschiedenen Blickwinkeln betrachtete Weise. So entpuppt sich schon der im klassische entspannten Bolero-Groove daher rollende Opener als John Coltranes Klassiker "Equinox". Perkussiver und zugleich melancholischer wird es mit Pedro Florez' Klassiker "Obsesión", der auch die famose, aus Curaçao stammende Sängerin Yumarya einführt. Zurück in die späten Neunzigerjahre, als er Mitglied in Johnny Almendras Kult-Combo Los Jovenes Del Barrio war, führt Huebner den Hörer  mit "Zapato Apretao": Das Stück greift die Tradition der Charangas auf, der mittelgroßen, aus den "Orquesta tipica" hervorgegangenen, stark vom Son beeinflussten kubanischen Ensembles der Vierzigerjahre. Man darf ohne Scheu an den Buena Vista Social Club denken.
Doch Huebner bildet natürlich ein viel breiteres Spektrum der kubanischen Musik ab. Mit seinem "Cuban Blues"  hat er Yumarya einen verzinkten, modernen Son auf den Leib geschrieben; das vom Schlagzeug eingeführte "South Sudan" veranschaulicht ebenso wie "Yoruban Fantasy" rhythmisch wie harmonisch die afrikanischen Wurzeln der kubanischen-afrokaribischen Musik. Nicht unterschlagen wird auch, dass der Son nie im luftleeren Raum stand und immer auch gesellschaftliche Phänomene aufgriff und das Zeitgeschehen spiegelte. Huebner knüpft daran mit zwei eigenen Kompositionen an, dem im eindrucksvollen Duo mit dem kolumbianischen Harfenisten Edmar Castaneda gespielten "Para Un Mejor Mundo", vor allem aber mit dem Titelstück "Los Soñaderos": Es ist ein bewegendes musikalisches Bekenntnis zu den sogenannten "Dreamers", den Kindern illegaler Immigranten ind en USA, deren Lage unter der Trump-Administration ungewisser denn je ist. Der Filmemacher Richie Briñez hat dazu auch ein ergreifendes Video gemacht.
Natürlich wäre Huebners Projekt halb so eindrucksvoll ohne seine vertraute, blind harmonierende Band: Pianist Klaus Mueller lässt die Läufe perlen und die Akkorde donnern; Jerome Goldschmidt und Ludwig Afonso sind am Schlagzeug die Herrscher über alle Latin-Rhythmen, Louie Bauzo ihr Pendant an Perkussion; der aus Puerto Rico stammende John Benitez lässt am Bass und Perkussion keine Zweifel an seiner Meisterschaft. Mit Buey Viejo" geht es zum Schluss gemeinsam zurück zum ersten "El Violin Latino"-Album". Ganz gemächlich im Clave schwelgend kommt die wahrlich schöne Reise mit dem wieder aufgegriffenen Stück an ihr Ende, getragen auch von der Stimme der Poetin Mappy Torres. Sie war für Gregor Huebner von Anfang an eine der großen Inspirationsquellen für sein "El Violin Latino"-Projekt. Anfang dieses Jahres ist sie gestorben – so ist "Los Soñadores" jetzt ihrem Andenken gewidmet.